Other Software (Network Auditing Software)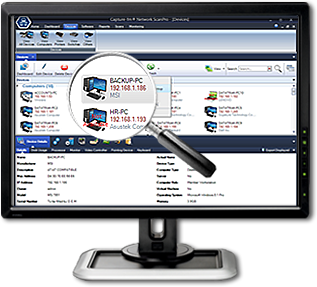 Capture-fm® Network ScanPro makes easy the enormous challenge of building a network inventory, where it is necessary to know the configurations and components of network devices. Capture-fm® Network ScanPro is designed to scan your network for network devices, automatically discover IP-enabled devices, collect relevant details for each device and transfer the data to Capture-fm® database system. It is fully integrated with Capture-fm® physical auditing software, so data obtained is merged with the asset information for more efficient asset management.
The Devices module of Capture-fm® Network ScanPro is designed to show devices found in the network, arranged in categories together with all data collected for the devices. It also allows you to manage each device. A complete history is stored for every device, so a complete audit trail is available for audit purposes. Once the device is discovered, there are build-in tools to interact with the device as well.
Key Benefits
Automatically identify devices in your network
Able to schedule scans at any time of the day
Scan any device when you want
Maintain up-to-date hardware and software records
Quickly retrieve detailed device information
Feeds data to Capture-fm® which is a proven asset management system
Useful Built-in device tools like ping, remote desktop
Maintain correct insurance coverage through up-to-date records
Manage installed software and Windows updates of computers on your network
Options to send notifications and alerts
Why Choose Our Software