Display Screen Equipment (DSE) Assessments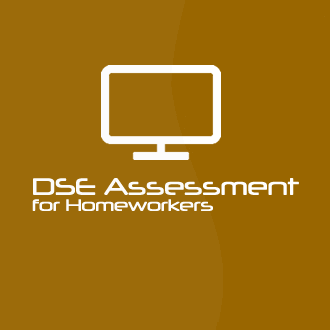 Display Screen Equipment (DSE) is a device or equipment that has an alphanumeric or graphic display screen, regardless of the display process involved. It includes both conventional display screens and those used in emerging technologies such as laptops, touch-screens and other similar devices.
Has their workstation and environment been assessed for Risk – as they would in an office?
Do they comply with the Health & Safety (Display Screen Equipment) Regulations 1992, as amended by the Health & Safety (Miscellaneous Amendments) Regulations 2002? The DSE Regulations came into force in 1993 to implement a European Directive, No 90/270/EEC of 29 May 1990, on minimum safety and health requirements for work with DSE.
More Information
Use of cookies by DataTrak
Cookies are small text files that are placed on your computer by websites that you visit. They are widely used in order to make websites work, or work more efficiently, as well as to provide information to the owners of the site.
The table below explains the cookies we use and why.
Cookie
Name
Purpose
Google Analytics
_utma
_utmb
_utmc
_utmz
These cookies are used to collect information about how visitors use our site. We use the information to compile reports and to help us improve the site. The cookies collect information in an anonymous form, including the number of visitors to the site, where visitors have come to the site from and the pages they visited. Click here for an overview of privacy at Google.
Most web browsers allow some control of most cookies through the browser settings. To find out more about cookies, including how to see what cookies have been set and how to manage and delete them, visit www.aboutcookies.org or www.allaboutcookies.org. To opt out of being tracked by Google Analytics across all websites visit http://tools.google.com/dlpage/gaoptout.
Why are assessments important?

Computer workstations or equipment can be associated with neck, shoulder, back or arm pain, as well as with fatigue and eyestrain.

Surveys have found that a high proportion of DSE workers report aches, pains or eye discomfort. These aches and pains are sometimes called upper limb disorders (ULDs), which can include a range of medical conditions such as RSI. Most of these conditions do not indicate any serious ill health, but it makes sense to avoid them as far as possible.

The Health and Safety (Display Screen Equipment) Regulations 1992 aim to protect the health of people who work with DSE. The Regulations were introduced because DSE has become one of the most common kinds of work equipment.

That doesn't mean that DSE work is risky – it isn't. ULDs can be avoided if users follow effective practice, set up their workstations properly and take breaks during prolonged use. By just taking a few simple precautions, work with DSE can be more comfortable and productive.

This assessment covers the DSE Regulations only. Employers should ensure that they also comply with general duties placed on them by other health & safety legislation.

What we produce for you

We produce a 6 page report covering your Company-owned items such as:

Display Screen
Keyboard
Mouse (or Trackball)
Laptop
Software
Furniture
Environment

Other related questions

Other questions asked relate to:

Any problems the user has working with their DSE
Any discomfort or other symptoms which they attribute to working with their DSE
Awareness of their entitlement to eye and eyesight testing
Whether or not they take regular breaks away from their DSE

The assessment takes approximately 75 minutes on site plus a further 75 minutes off site to produce the final report. The Report is sent to you electronically in pdf format.

The Cost

For our latest prices please contact a member of our sales team, by using the Ask a Question email service on this page or through the contact page.

Portable appliance testing on any Company-owned electrical equipment used by the home-based staff at their home is included in the price provided the testing is carried out at the same time as the risk assessment.

The schedule of visits is arranged in the most cost-effective and efficient way so that whenever possible at least 2 home workers per day will be assessed.

Because of the geographical spread of home workers it is not always possible to do that of course, but that is what we aim to achieve. To avoid fruitless visits, all appointments are pre-arranged with the individual home worker(s).