Fixed Wired Testing/ EICR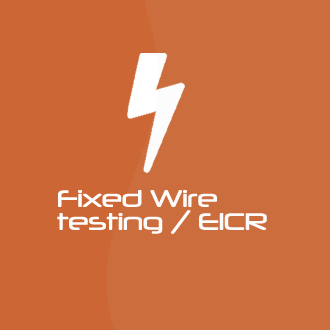 Most electrical installations suffer damage and deterioration throughout their operational life which makes Fixed Wire Testing essential in confirming the safe operation of the installation.
We offer a range of Testing and Inspection programmes that can be tailored to suit your facility. We only provide experienced engineers certified to City & Guilds 2360/2391 and IEE Wiring Regulations (17th Edition) qualifications.  
We operate under the NICEIC Approved Contractor scheme, who verify all our engineers and procedures annually. This gives you peace of mind and ensures that our work is to the highest standards.
More Information
Use of cookies by DataTrak
Cookies are small text files that are placed on your computer by websites that you visit. They are widely used in order to make websites work, or work more efficiently, as well as to provide information to the owners of the site.
The table below explains the cookies we use and why.
Cookie
Name
Purpose
Google Analytics
_utma
_utmb
_utmc
_utmz
These cookies are used to collect information about how visitors use our site. We use the information to compile reports and to help us improve the site. The cookies collect information in an anonymous form, including the number of visitors to the site, where visitors have come to the site from and the pages they visited. Click here for an overview of privacy at Google.
Most web browsers allow some control of most cookies through the browser settings. To find out more about cookies, including how to see what cookies have been set and how to manage and delete them, visit www.aboutcookies.org or www.allaboutcookies.org. To opt out of being tracked by Google Analytics across all websites visit http://tools.google.com/dlpage/gaoptout.
Why do I need it done?

All employers have legal obligations under the Health & Safety at Work Act 1974 and the Electricity at Work Regulations 1989 to ensure that electrical installations and equipment in places of work are safe. The Periodic Test and Inspection commonly known as "Fixed Wire Testing" is one method of ensuring your electrical distribution system is safe.

How often does it need doing?

The frequency of testing really depends on the type of building and its use, and can range from yearly to every five years. It is also possible to spread the testing (and thus the cost) over those five years (20% each year).

Quality reports are critical to the electrical safety process. Our reports are thoroughly checked by a Qualifying Manager to ensure they are accurate the first time round. This saves the need for time-consuming revisions at a later stage and means you get your reports much faster.

Any repairs that are recommended will be quoted for (no obligation).

We can manage the whole process for you and advise you on the best program to ensure the highest level of safety.

For these and many more reasons we're confident that with DataTrak you'll enjoy a more professional and responsive service as well as a faster and more cost-effective result.

What We Do – The Testing Program

Before we commence the test, we will walk the site with you to identify all the areas that have been previously agreed against a programme of work.
We will agree the visit plan to make sure that we keep any disruption to your administration or production operations to a minimum.
On arriving on site, the engineers will sign in and undergo any site specific Health & Safety training required.
All equipment to be tested will be disconnected from the mains supply. The testing will proceed against our pre-agreed programme.
Any serious faults identified will be brought to the notice of the onsite representative for further instructions.
The pre-arranged testing programme will continue until completed.
Once an area has been completed, we will notify the onsite representative and move on to the next area in the programme.
The report is discussed and issued.

What we do to meet the Schedule of Inspection and to comply with – BS7671:2008 17th Edition

Visual Inspection.
Continuity of Protective Conductors and earthed equipotential bonding.
Polarity.
Earth Loop Impedance.
Insulation Resistance.
Operation of devices for Isolation and Switching.
Operation of Residual Current Devices.

Testing on a per circuit basis

Please call or email us with the number of circuits and we will get back to you with a no obligation quote.

You can download our easy to follow guide on counting circuits, or if you are struggling to count them up, we will be more than happy to do it for you as part of our free site survey service.