Thermal Imaging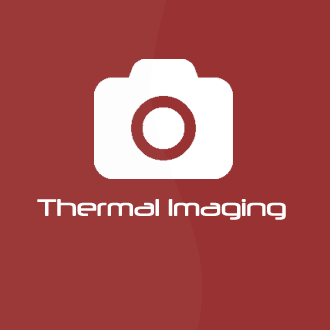 Thermal imaging is one of the most valuable diagnostic tools for predictive maintenance. By detecting anomalies often invisible to the naked eye, thermography allows corrective action to be taken before costly system failures occur.
Thermal Imaging or Thermography is the process of using a special camera designed to look only for heat by way of infra-red (IR) energy waves.
A regular programme of thermal imaging as part of routine maintenance can highlight potential problems long before any event. As a result any required repairs can be planned for in terms of both time and budget. In short, it is an invaluable resource for predictive maintenance.
Thermal Imaging is commonly used for electrical inspections. As electrical connections become loose, there is a resistance to current that can cause an increase in temperature. This increased temperature can then cause components to fail, potentially resulting in unplanned outages and injuries. In addition, the efficiency of an electrical grid becomes low prior to failure, thus energy is spent generating heat, causing unnecessary losses. If left unchecked, heat can rise to a point where connections melt and break the circuit; as a result, fires may occur.
Besides loose connections, electrical systems suffer from load imbalances, corrosion, and Increase in impedance to current. Thermography can quickly locate hot spots, determine the severity of the problem, and help establish the time frame in which the equipment should be repaired.
Thermography is very useful when inspecting indoor components such as motor control centres, breaker panels, disconnect switches and transformers. Another key benefit of thermography is the ability to perform inspections while electrical systems are under load.
As thermography is a non-contact diagnostic operation, the test engineer can quickly scan a piece of equipment from a safe distance, leave the hazardous area, and return to a safe place to analyse the data without ever putting himself in any harm.
More Information
Use of cookies by DataTrak
Cookies are small text files that are placed on your computer by websites that you visit. They are widely used in order to make websites work, or work more efficiently, as well as to provide information to the owners of the site.
The table below explains the cookies we use and why.
Cookie
Name
Purpose
Google Analytics
_utma
_utmb
_utmc
_utmz
These cookies are used to collect information about how visitors use our site. We use the information to compile reports and to help us improve the site. The cookies collect information in an anonymous form, including the number of visitors to the site, where visitors have come to the site from and the pages they visited. Click here for an overview of privacy at Google.
Most web browsers allow some control of most cookies through the browser settings. To find out more about cookies, including how to see what cookies have been set and how to manage and delete them, visit www.aboutcookies.org or www.allaboutcookies.org. To opt out of being tracked by Google Analytics across all websites visit http://tools.google.com/dlpage/gaoptout.
Why do I need to carry out Thermal Imaging?

The Electricity at Work Regulations of 1989 places a "duty of care" on employers and landlords to maintain electrical systems to prevent danger where otherwise it may exist. In many cases traditional inspection and test work is not feasible; where supplies are impossible to isolate such as hospitals, prisons, factories etc. Whilst it is imperative to carry out as much inspection and test work as possible, thermal imaging is an effective way of determining the presence of potential problems within the electrical distribution system without the need to isolate circuits. Images can be taken of key connections and switchgear and along with visual inspections and live testing can form a means to meeting your obligations under legislation.

Who is responsible?

Realistically, everybody has a duty to ensure the safety of others whilst at work. However, the Duty Holder will have ultimate responsibility for electrical safety. If nobody at your place of work is clear on who that is, then the responsibility falls on the most senior person. It is important to know who has the responsibility for safety and welfare of staff in order to establish that compliance is achieved.

What does it involve?

Thermal Imaging involves an Engineer visiting your premises armed with a powerful camera that uses infra-red technology to detect heat. Most electrical parts that are damaged or ready to fail will generate heat; the camera will detect excessive heat in relation to the ambient temperature which will alert the engineer to a potential problem. The engineer will be trained to recognise whether the heat is sufficient to warrant further investigation, upon which the client will be notified. Generally speaking, thermal images can be taken by simply removing the cover or barrier to a piece of electrical distribution equipment, and does not require isolation.

Who should do the work?

It is vital that this type of work is carried by a qualified and experienced test Engineer. Such Engineers are generally fully qualified electricians who have experience of test and inspection, and have been trained and specifically qualified in thermal imaging work. When selecting your contractor, you should ask to see evidence of their qualifications and experience in this type of work.

Will it impact on my workplace?

In theory there should be no impact whatsoever other than an Engineer being present on site visiting each key electrical location. Providing you communicate with the engineer and provide access to each location, there will be no impact and your business will not be affected.

What will I receive?

Upon completion of a thermal imaging survey you will receive a report that details the following:

Installation details and characteristics
Schedule of items tested and inspected
A thermal image and standard digital image of each piece of equipment surveyed
Recommendations for any further investigation required along with an explanation.

If you are not a technical person, we will be pleased to talk through your report with you and advise you of any further action required.

How much will it cost?

Unlike a lot of companies we base our charge according to your specific site. Contact us for a free no-obligation quote.

What could happen if I don't do it?

There are many reasons not to do electrical testing and inspections, such as cost, inconvenience, or lack of knowledge. However none of these reasons will be accepted as a defence in the event that an accident or fire occurs. Aside from the threat of prosecution in the event of injury or death, many insurance companies now require thermal imaging to be done on a regular basis.